The Philippines is among the poorest countries with changes in economic growth. In fact, there are still many poor communities despite the number of middle-income classes in the country. Unemployment and birth rate are factors to consider why most Filipinos belong to the urban poor. This explains the importance of a non-government organization in the Philippines that aims to work closely with the government to address this issue.
Poverty Line in Developing Countries and Its Effects on Underprivileged Children
For decades, the poverty worldwide has significantly decreased, thanks to efforts of governments as well as the work of NGOs to marginalized communities. Nonetheless, due to COVID-19, this success of curbing the poverty rate across the globe might be undone. According to the January 2021 estimate of the World Bank, there are between 119 and 124 million additional poor globally with, around 60% of whom are from South Asia.
As for the Philippines, many families in Metro Manila each day subsist with at best one meal, and at worst none at all. The lack of income source has forced children to prioritize work over education to help their parents. This kind of setup falls back to the root cause. The system narrows down opportunities for children because a good-paying job requires a diploma. This challenge passes the suffering from one generation to another.
This is where the importance of education comes in. To improve the lives of the underserved population, efforts from the local government and non-government organizations are of paramount importance.
Non-government Organization in the Philippines: Its Key Role
Non-profit organizations serve as additional help aside from the programs and funds from the government. NGOs must focus on their programs and means to send help. The deeper sense of their humanitarian act lies in their purpose. Thus, to fight poverty in the Metro, we need to check the root cause of the issue to come up with solutions.
Changes in the global economy mean that more people need help from NGOs across countries. The charitable activities of NGOs differ in scope in terms of local, national, or international level; but all of them play a crucial role in the development sector.
Though there are thousands of NGOs, the beneficiaries are continuously growing too. Not everyone is given the golden ticket to live a better life. Now, the goal of NGOs is to bring a glimmer of light. These organizations are working toward a common vision to promote social change on a broad scale.
Role of Childhope Philippines as Development Aid
Dynamic partnership is key to resolve the complex emergency problems of developing countries. As an NGO in the Philippines, we believe that help should start within the locals. Having that said, we are a non-profit organization in the Philippines that brings Filipinos closer for a cause. Further, we advocate for the well-being of street children. Even though Filipinos are hardworking and resilient, this is not for the children. Children are the most at risk and in need of security, and thus we dedicate our efforts to providing it for them.
Street Education and Protection (STEP)
As the country's national hero Jose Rizal believed, children are the future of the society. With that said, it is important to close gaps in education. Unfortunately, formal education is not always available to the poor. Notwithstanding the challenges in education, we want to mobilize the way for out-of-school youth to learn.
Investing in education is key to cut the decades-long poverty that in turn serves a millstone sinking the hope of generations. In line with this, our vision is to give them one STEP forward to fight poverty. To do so, we provide an Alternative Learning System through KalyEskwela or school on the streets.  
The Mobile Health Clinic (KliniKalye)
According to UNICEF, about 31.4% of children are living deprived of basic needs. Every child deserves access to medical care, which is why we set up a mobile clinic to prioritize children and their health. Simply put, the KliniKalye program ensures the physical health of children.
Psychosocial Interventions
Children on the streets should be given care not only with their physical state but also their mental health. In line with this, we are a non-government organization in the Philippines that provides psychological aid and counseling. This way, we help kids and their parents to cope up with stress and learning challenges. This program also focuses on neglected and abandoned children by donating to shelters. These shelters are the hands providing for the basic needs of children such as food and home.
Life Planning
Being part of the society requires social responsibility. We want to prepare them for real-life situations by developing their skills. We train the street children on arts and other skills.
Kalyenderia Mobile Soup Kitchen
Childhope Philippines has launched a new project that aims to support not only on the education aspect but also on their overall health. Kalyenderia is our very own Mobile Soup Kitchen with the goal to share nutritious meals on wheels with the street children.
#DeliveringHope Project
Our #DeliveringHope project is a local emergency relief effort which widened the reach to communities. Because of the help we have received, we will continue this effort as part of long-term development projects.
The project focuses on disaster response, emergency preparedness, and livelihoods recovery. As of date, we have raised 5,182,065.13 PHP worth of donations from different corporations, private entities, and individuals.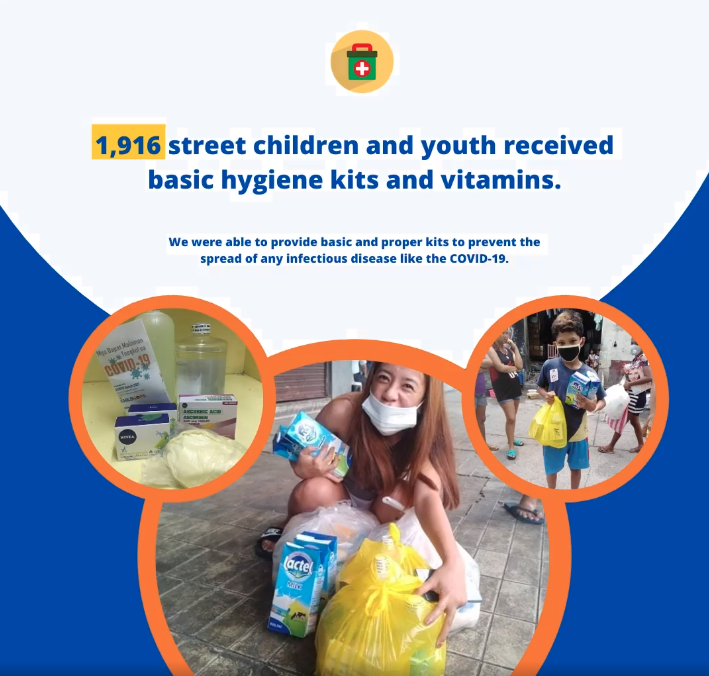 Sustainability Through Public Response
Despite the strengths of NGOs in disaster response, there are challenges in extending help to those in need. As a non-government organization in the Philippines, we strive to increase our volunteer services to help poor communities. Throughout the years, we have strived to value partnerships to overcome economic challenges. We can build stronger communities by acting together toward a common goal. Promoting public awareness and encouraging donor response are keys to a brighter future. Donate today and let us open educational opportunities to street children and youth.