Manila, Philippines — Childhope Philippines Foundation continues their mission over the past decades to be a child's hope, promoting and advocating for the rights of every child particularly of the children in street situations. This is also made possible by the corporate and organizational partners who continued to support Childhope through the past year.
As the organization celebrated its 34th anniversary last May 19, 2023, Childhope Philippines Foundation Inc., celebrated it through appreciating the different corporate and organizational partners that continuously supported the foundation. And among the various awards, the Heroes of Hope awards were definitely among the most awaited ceremonies.
The Heroes of Hope award aimed to recognize the top six (6) exemplary corporate and organizational partners who had dedicated their invaluable time to support Childhope. It also intended to appreciate their limitless contribution to the organization's various activities primarily throughout 2022.
Handing out the Heroes of Hope Award
The Heroes of Hope award are ranked according to the hours each partner rendered for an activity that they prepared and volunteered for, for the welfare of the children. Like Childhope, these partner organizations have the same mission to advocate, empower, and give every child in a street situation a hope to make their dreams possible.
The rankings were as follows: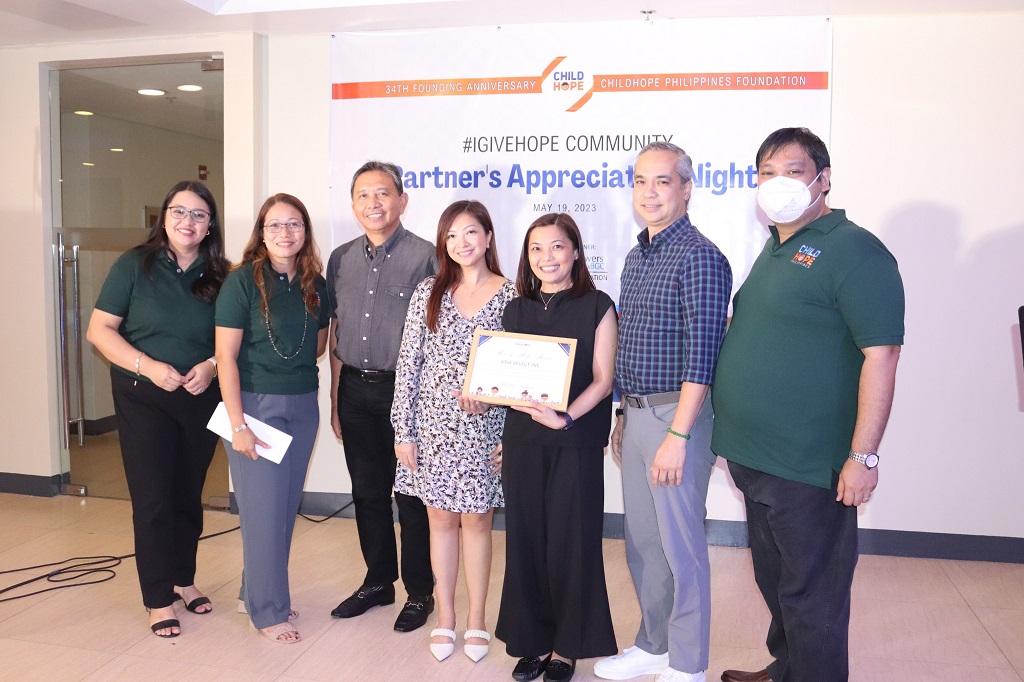 Heroes of Hope Awardee #1: Asia Select Philippines
As the leading awardee of the esteemed Heroes of Hope Award, Asia Select as a headhunting firm has a mission to bring people and career opportunities together. In turn, their advocacy aims to transform an individual's life, in this case the children's lives.
Asia Select and Childhope's partnership is a milestone for the career path of every child, for they hone the youths to be successful individuals, both personally and professionally. Through their Career Planning Workshop last May 7 to June 1, 2022, the partnership provided a meaningful contribution to the lives of the children in street situations.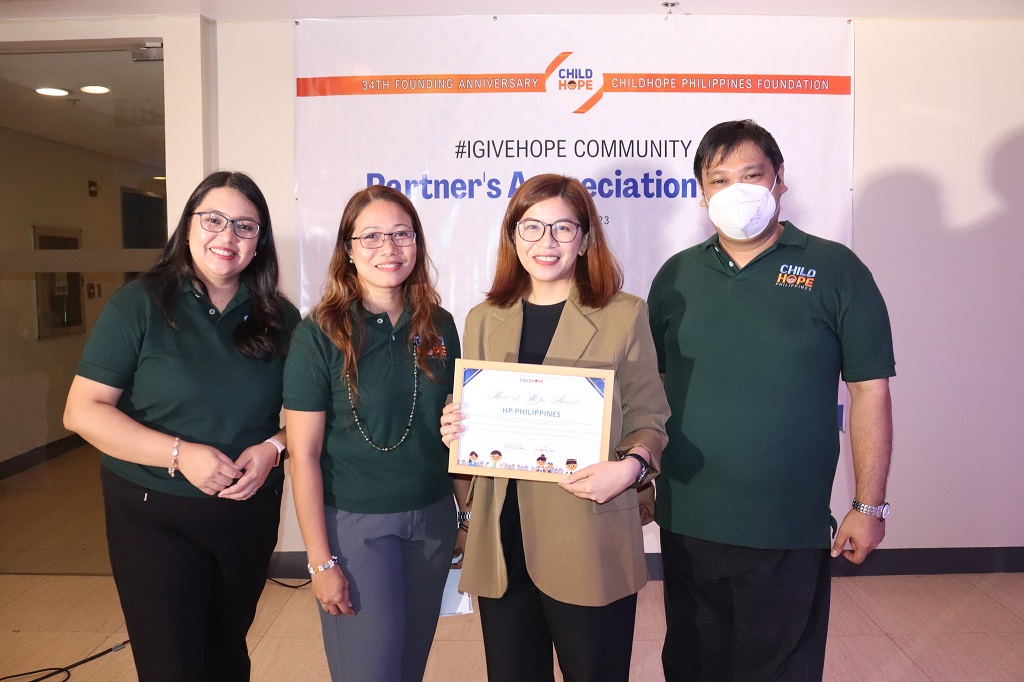 Heroes of Hope Awardee #2: HP Philippines
As the second awardee of the esteemed Heroes of Hope Award, HP Philippines believes that they should make the world a better place for every individual through an adequate knowledge of the proper use of technology.
On May 25, 2022, HP Philippines hosted a webinar for Childhope's street educators and social workers about "Digital Citizenship and Ethics." The webinar discussed various topics that ensured everyone's safety to provide and deliver a quality and efficient learning environment for the children. Furthermore, HP Philippines also donated equipment to Childhope that were used in the organization's street education program, KalyEskwela.
Heroes of Hope Awardee #3: Finastra
As the third awardee of the esteemed Heroes of Hope Award, Finastra as a software company aims to unlock the potential of every individual and communities, promoting inclusivity.
On March 22, 2022, Childhope and Finastra held a memorandum of agreement signing for grant donations aimed to support the KalyEskwela Mobile Community Learning Hub. Furthermore, they also executed coding workshops in their headquarters last May 19, 2022 to expose the children to software development in an entertaining and engaging way. The objective was for the children to be interested in computer science and continue to learn and grasp its importance, which can open a lot of opportunities in the future.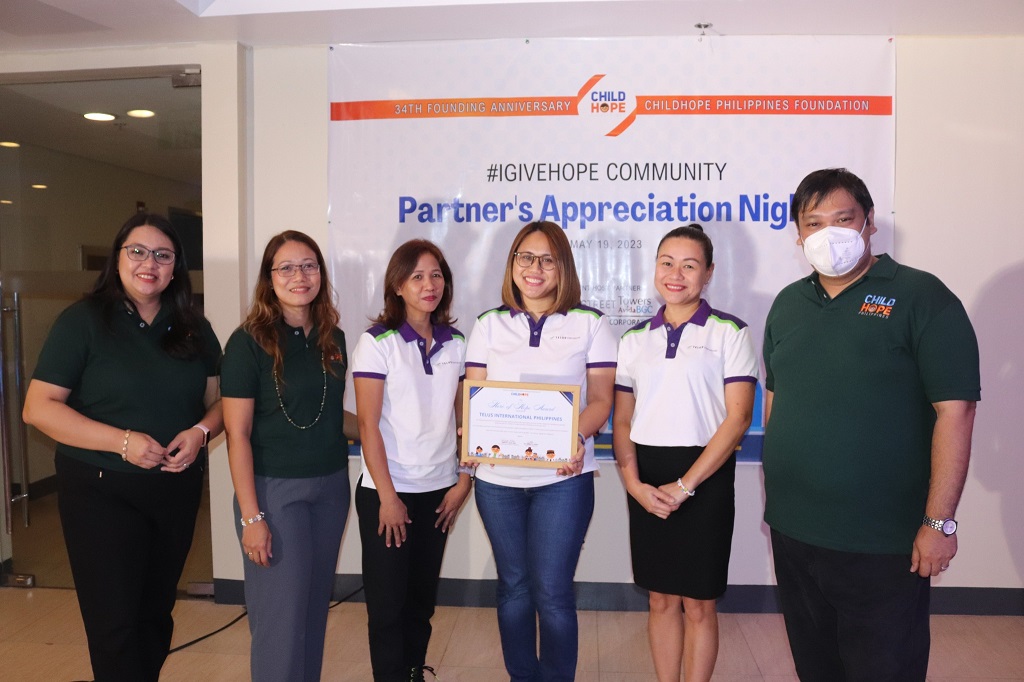 Heroes of Hope Awardee #4: TELUS International
As the fourth awardee, TELUS International focuses on and values human connection to provide high-quality customer experiences. The company gave back to the community where as part of their culture. They believe that their team members can make a meaningful contribution to social change.
On November 30, 2022, Childhope celebrated their annual MusiKalye event online which showcased the children's talents through performing. This successful event happened in partnership with TELUS and other organizations that encouraged and supported every child to broaden their horizons specifically in performing and sharing their talents to their audience.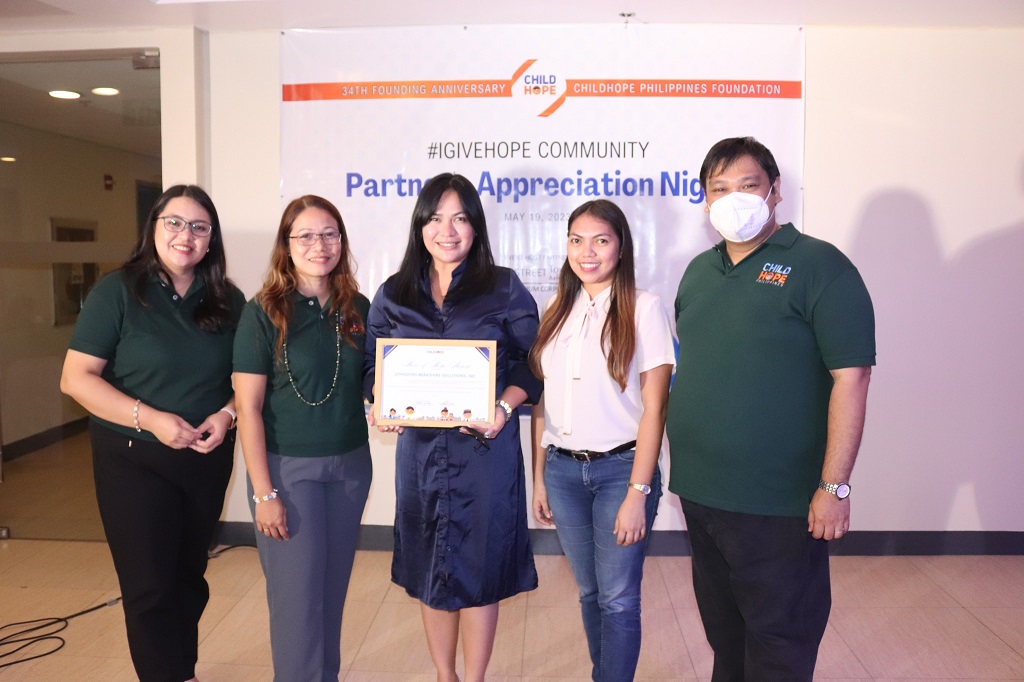 Heroes of Hope Awardee #5: Johnson Berkshire and 24/7.ai Philippines (tied)
With their motto "To Always Put Service Above Self. To Innovate Without Limits. Ready For A Better World"; Johnson Berkshire continuously donates for the children in street situations and delivers hope to each and every one of them.
The company's monthly donations of food packs for the low-income families of Childhope's street children beneficiaries helped said families survive against hunger.
With almost the same rendered hours, 24/7.ai Philippines shared the ranking with Johnson Berkshire. On October 31, 2022, the volunteers from 24/7.ai Philippines helped with the preparations of the meals that were distributed to 100 street children beneficiaries.
Heroes of Hope Awardee #6: Smart Communications and The Courage To Be Kind (tied)
As the sixth awardees of the esteemed Heroes of Hope Award were Smart Communications and The Courage To Be Kind.
The year 2022 had been another productive year for Smart Communications for their continuous support to Childhope and various activities that they prepared for the children in street situations. This mainly involved distributing food packs and supporting the street education deployment through an earlier donation of the innovative School-in-a-Bag with Mobile Legends: Bang Bang Professional League. The latter initiative entailed making an audiovisual material to help the children prepare for emergencies, gift giving, and relief assistance.
With almost the same rendered hours The Courage To Be Kind believes that everyone matters, especially children in dire need. Thus, they want to inspire, motivate, and provide opportunities to every individual through their scholarship and assistance programs; all of which they accomplished in 2022.
Childhope Philippines' Approach to Advocacy for Children's Rights
As a non-governmental organization (NGO) that advocates for the rights and welfare of street children in the Philippines; Childhope's approach to advocacy for children's rights revolves around several key principles and strategies:
Holistic Support
Childhope takes a holistic approach to address the needs and rights of street children. They aim to provide comprehensive support, including access to education, healthcare, nutrition, psychosocial services, and protection from abuse and exploitation.
Empowerment
The organization believes in empowering street children to become active participants in their own development. They focus on building their self-esteem, confidence, and life skills, helping them to break free from the cycle of poverty and vulnerability.
Awareness and Capacity Building
Childhope also conducts awareness campaigns and training programs for various stakeholders, including government agencies, communities, and the private sector. By raising awareness about the issues faced by street children, they aim to foster a more supportive and protective environment for these marginalized youth.
Be the Hero of Street Children
Be an agent of change today and leave a lasting impact on these kids' lives. Support Childhope Philippines' initiatives to provide quality education and together, let's bring hope and a better life to them.
It is never too late to be a child's hope, to be a part of their life particularly in achieving their future endeavors. Because once you become a child's hope, you will forever be a hero of hope.