MANILA, Philippines – In a heartwarming musical event held on July 2, three talented young musicians came together for a noble cause, using their extraordinary skills to bring hope and support to Filipino street children. The concert, titled "Helping Through Music: A Benefit Concert for Childhope PH and Museo Pambata," aimed to showcase the artists' instrumental prowess in piano, clarinet, and violin while raising funds for these two important organizations.
The concert, held at the Kalikasan Hall in Museo Pambata, Ermita, Manila City, was a resounding success, attracting an audience comprising guests, sponsors, Childhope PH and Museo Pambata board members, street educators, social workers, Museo Pambata staff, and 30 street children who were the main beneficiaries of the evening. It was an opportunity for these marginalized children to experience the beauty of classical music firsthand.
This benefit concert deviated from the usual format by not only presenting captivating performances but also seeking to foster an understanding and appreciation for classical music. The artists — pianist Jet Chong, violinist Adrian Ong, and clarinetist Franz Andra — took the chance to inspire the street children with their remarkable talents and shared their knowledge about their respective instruments.
Related News: TELUS International Philippines Launches "Step It Forward" Program to Help Street Children Learn Dance Genres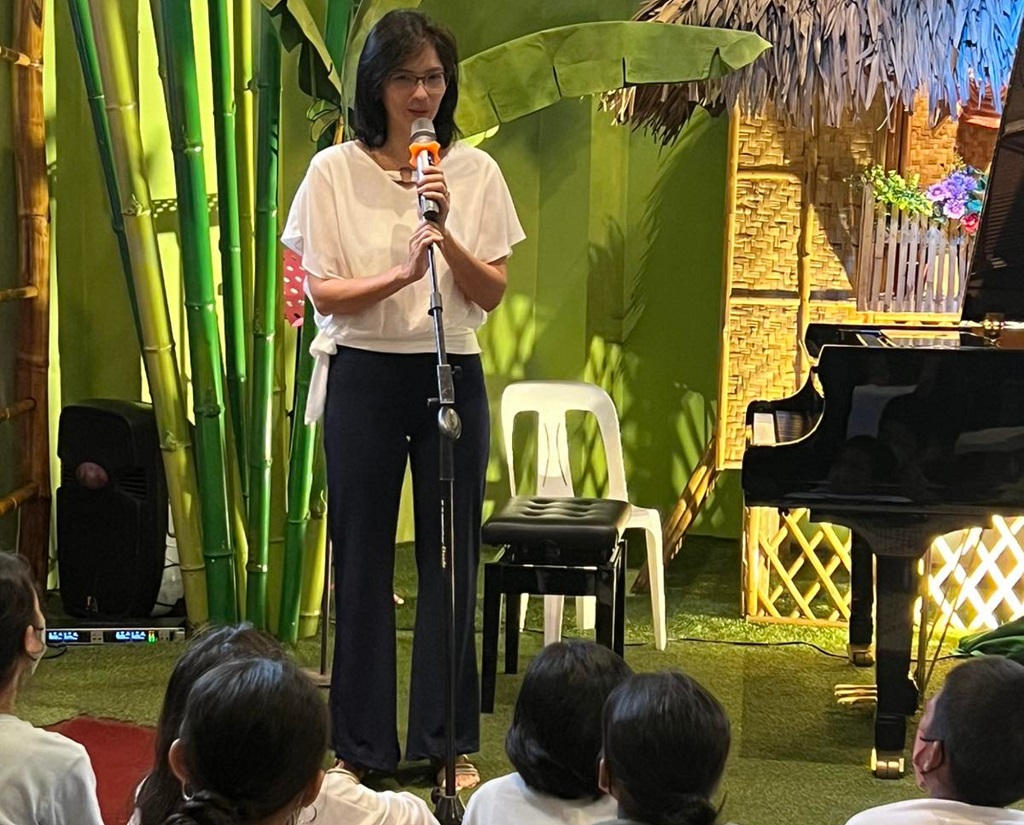 How 'Helping Through Music' Came to Be
At the forefront of this musical endeavor was Ms. Mariel Ilusorio, a renowned piano soloist, teacher, accompanist, and chamber musician. As the concert organizer, Ms. Ilusorio shared her motivation behind this charitable event. Reflecting on a past experience during an outdoor concert where she noticed a street child engrossed in the music, she felt deeply moved. She realized that classical music could have a profound impact on individuals who seldom have the opportunity to attend such performances. This encounter sparked the idea of organizing a concert specifically for these underprivileged children.
Expressing her admiration for young Filipino artists, Ms. Ilusorio stated, "I am very interested in hearing and encouraging young Filipino artists. I have heard [Chong, Ong, and Andra] through the years and thought it would be great to promote them, to give them a platform to share their talent, and at the same time, to give people a chance to enjoy their talent that they have developed in a very committed way through the young years."
Related News: The Award-Winning Conductor Darell Ang Returns to the Stage to Highlight the Three Generations of Filipino Musicians Artistry
Helping the Youth Through Music: Jet Chong
Jet Chong, a gifted pianist, expressed his delight in interacting with the street children. He described their curiosity about the different components of the piano and their eagerness to learn simple tunes. "This experience inspired me to keep sharing my talent with more people, regardless of their background, as I believe music, or art in general, can make life more colorful," Chong shared.
He felt honored to contribute his music and expertise in supporting organizations that assist street children and expressed his hopes to continue making a difference through benefit concerts and free workshops.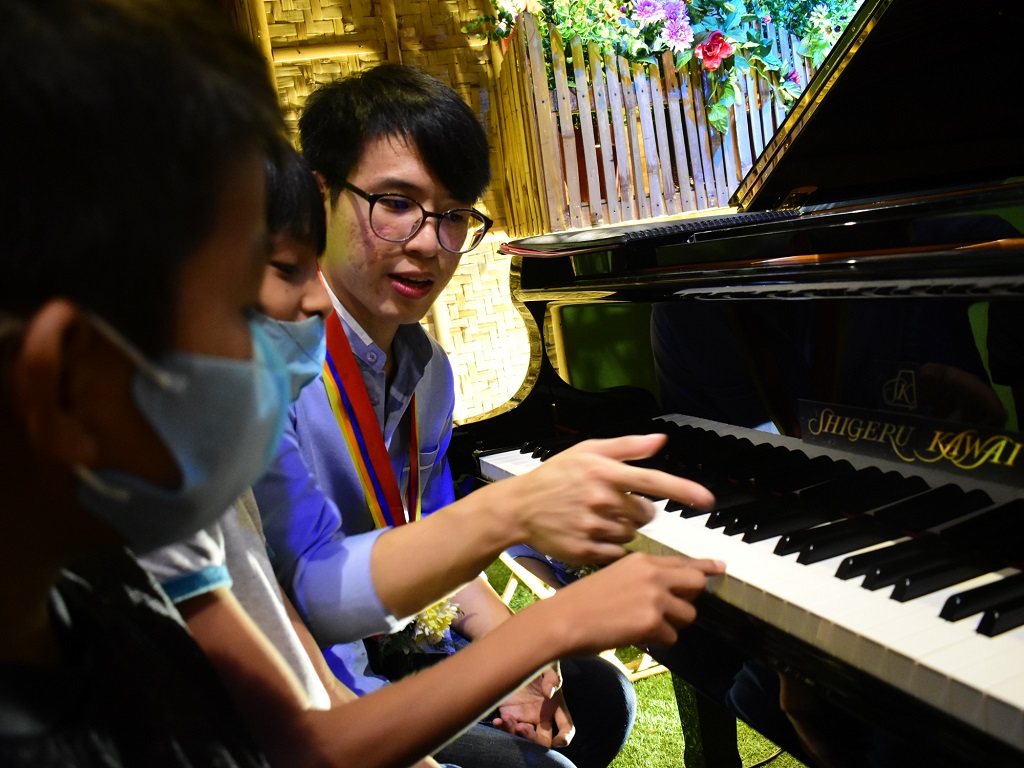 "The highlight of the concert for me was when I let the children try out the piano. I love their curiosity in asking what each part of the piano does, and their eagerness to learn simple songs to play on the piano. This experience inspired me to keep sharing my talent with more people no matter what background as I believe music, or art in general, can make life more colorful. I feel very honored to be able to contribute with my music and knowledge in supporting organizations that assist street children.

I hope that I will get to do this more in the future where my music can make a difference in the lives of the underprivileged children, may it be through benefit concerts or through free workshops."

Jet Chong
Helping the Youth Through Music: Adrian Ong
Acclaimed violinist Adrian Ong left a lasting impression at the 'Helping Through Music' benefit concert. Connecting with the children during the instrument petting zoo brought him true joy. "The kids were really intrigued by the violin and how it worked," he said with enthusiasm. Their musical curiosity captured his heart.
During the mesmerizing concert, Ong noticed the children's fascination and attentive listening. "I hope to have inspired them to learn an instrument or more about music," he shared. Supporting charities for street children was a pleasure for Ong, fueled by his belief in music's transformative power.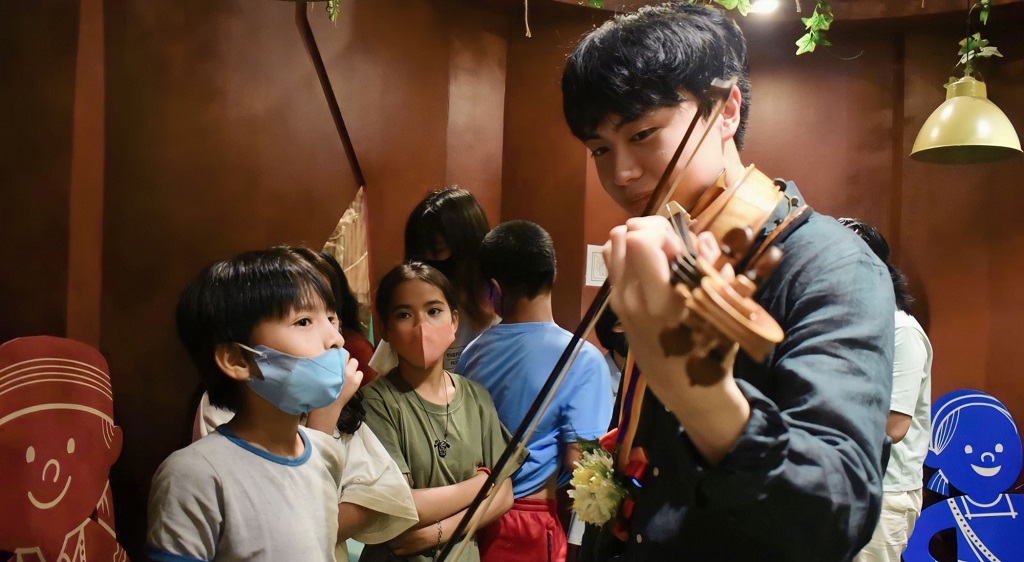 "The highlight of the event for me was interacting with the kids during the instrument petting zoo. The kids were really intrigued by the violin and how it worked, many of them kept coming back to try it again, which was very adorable. I would play the ABCs for them, and they used my violin bow to make the sound and one could tell that they were musical. Even during the performance, I noticed that the kids were fascinated and were really listening to us perform.

I hope to have inspired them to learn an instrument or learn more about music in general. I wish that music could play a big role in their lives. It was very heartwarming to interact with them and I had a lot of fun. It was my pleasure to support charities and organizations that assist street children because I do believe that music can really aid the development of a child. I hope I can work with these kids again someday, maybe even a more in-depth music education project."

Adrian Ong
Helping the Youth Through Music: Franz Andra
For clarinetist Franz Andra, the 'Helping Through Music' benefit concert provided him with a profound and heartwarming experience. The highlight of his performance was witnessing the kids sing and dance along as he played "Cupid." He was delighted to see the genuine connection formed with the young audience through the power of a simple song.
During the concert, Andra shared laughter with the kids as they noticed the emotions he expressed while playing. One child amusingly remarked, "Kuya, when you were playing, you sometimes looked angry, and at times like you were about to cry!" The clarinetist was inspired by how perceptive the children were, picking up on the emotions he conveyed through his music. To him, this awareness signifies a bright future ahead.
Embracing the joy of doing what he loves and knowing it contributes to a noble cause, Andra emphasized the importance of nurturing the knowledge and potential of these children, who are the future of society. Supporting organizations like 'Helping Through Music' fills him with pride, as it allows him to be part of something bigger than himself – a collective effort to guide and uplift the younger generation.
Filled with gratitude for the experience, Andra expressed his eagerness to repeat this endeavor in a heartbeat. He cherishes the opportunity to make a positive impact and feels thankful for being part of such a meaningful cause.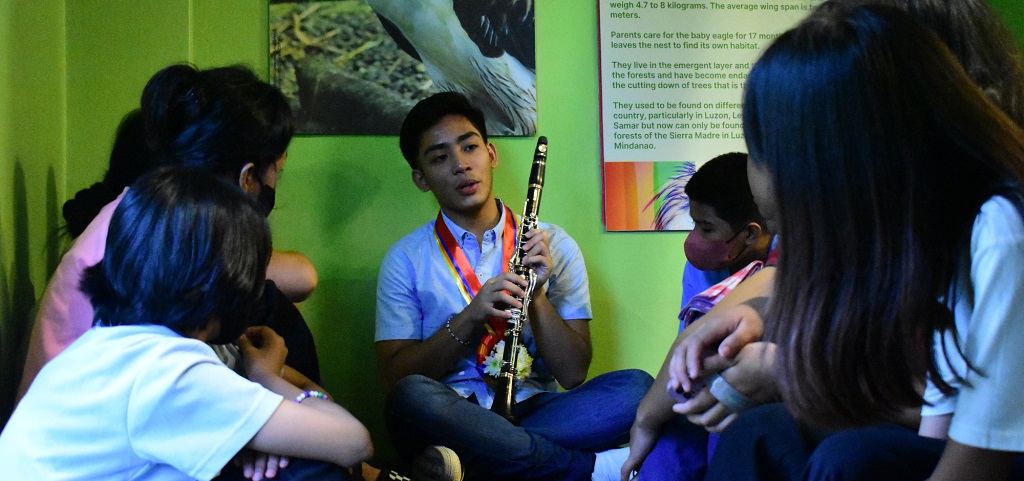 "The "Helping Through Music" benefit concert not only touched the hearts of the young audience but also inspired the artists themselves, reminding us of all the immense power of music and the beauty of giving back to the community."

Franz Andra
Related News: Childhope Philippines Recognizes Its Partners' Contributions with the Heroes of Hope Award
Helping Through Music: A Noble and Noteworthy Cause
The concert served as a platform for collecting donations that will be directed to two noteworthy organizations: Childhope Philippines, which has been advocating for and protecting the rights of children in street situations for 34 years; and the Museo Pambata Foundation, a children's discovery museum committed to providing creative and educational services for children and adults involved in children's welfare.
Through their musical talents and the generosity of the audience, the young artists and concert organizers demonstrated the power of music to inspire, uplift, and make a meaningful impact on the lives of underprivileged children. Their efforts in organizing this benefit concert will undoubtedly contribute to the continued success and outreach of Childhope Philippines and the Museo Pambata Foundation.
"We thank Ms. Mariel and the artists Franz, Jet, and Adrian for graciously sharing their time and talents for this benefit concert. Proceeds donated to us will be used for the Street Education and Protection (STEP) Program, providing more opportunities for learning for children in street situations. Music not only heals but also inspires and calls on people to help the most vulnerable children in our society," said Dr. Herbert Q. Carpio, Executive Director of Childhope Philippines Foundation.
"The fund will play a pivotal role in supporting our beloved Museo Pambata. With the contributions, this fund will enable us to carry out much-needed minor renovations, maintain the museum's operational needs, and extend our outreach programs to touch more lives both inside and outside the museum," said Albert Toralba, Executive Director of Museo Pambata Foundation.
As the final notes echoed through the concert hall, it was evident that music had transcended boundaries, connecting hearts, and fostering hope for a brighter future for Filipino street children.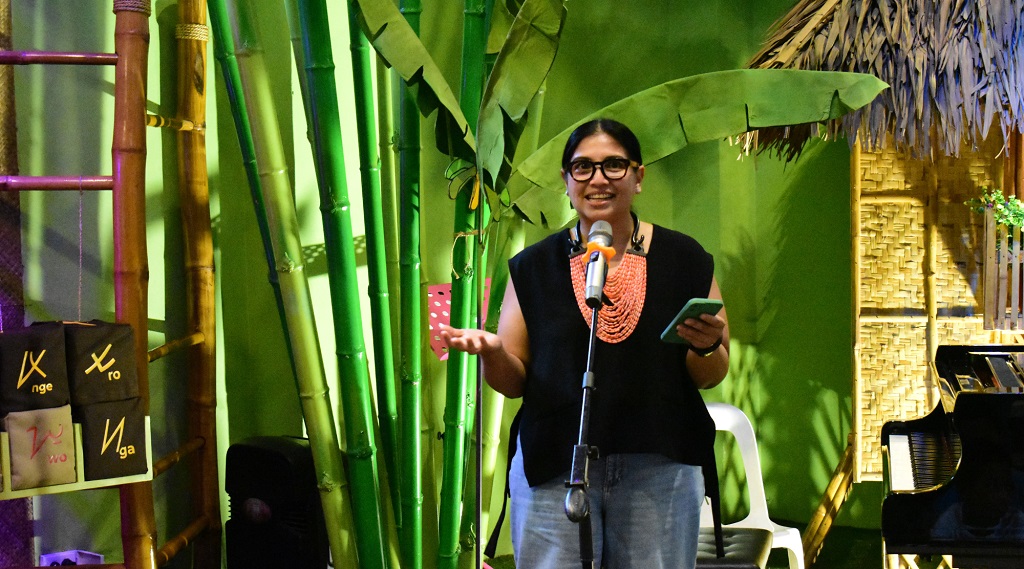 Jollibee's Delicious Meals for the Children Cap Off the Event
The spirit of joy and generosity continued to shine after the 'Helping Through Music' benefit concert as the street children received a heartwarming surprise visit from Jollibee, one of the proud sponsors of the event. As the concert concluded, the children were treated to delicious Jolly Meals, itself Jollibee's gesture of the true essence of giving back to the community and creating unforgettable moments of joy.
"We are thrilled to be part of this wonderful event and to have the opportunity to bring happiness to these young hearts," said a Jollibee representative. "Supporting the 'Helping Through Music' concert aligns perfectly with our commitment to making a positive impact on the lives of children and families."
This heartwarming gesture not only brought smiles to the faces of the children but also served as a testament to the power of collaboration between organizations and the community in creating a better world for those in need.
As the notes of the concert and the laughter from the children filled the air, it became evident that "Helping Through Music" had become more than just a benefit concert; it had become a collective expression of compassion, unity, and hope.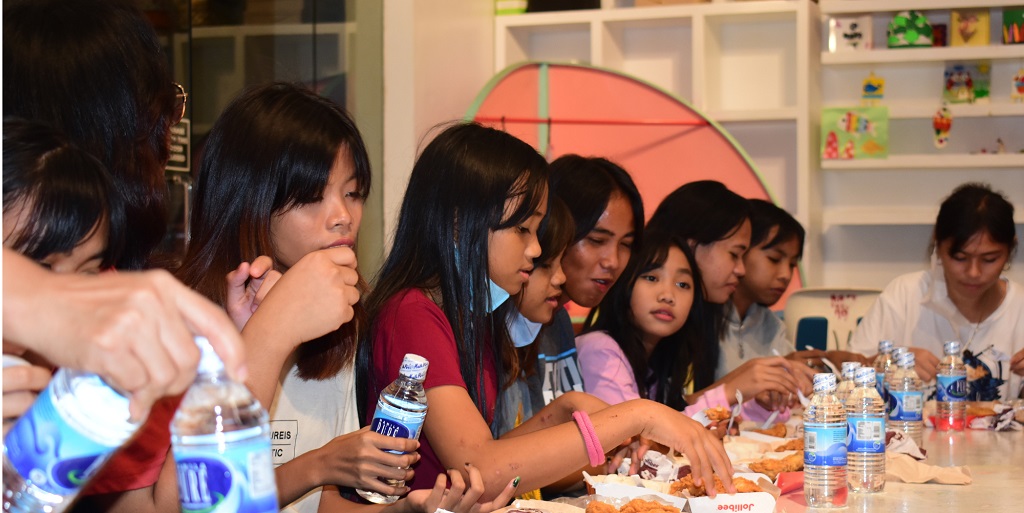 The Power of Music on Youth Development and Empowerment
Music holds a profound influence on the development and empowerment of young individuals. Beyond its aesthetic and entertainment value, music has the remarkable capacity to shape and nurture the growth of youth. By immersing themselves in musical pursuits, children can learn discipline, perseverance, and teamwork. These are important virtues that contribute to their holistic personal growth.
Community-based music initiatives, such as youth orchestras, bands, music education programs, and the successful 'Helping Through Music' benefit concert further promote a sense of belonging and connection. Through these efforts, youths develop essential interpersonal skills, empathy, and a supportive network. In essence, music serves as a catalyst for their development, in turn fostering empowerment, resilience, and a well-rounded sense of identity.
Related News: PCSO's Generous Contribution: Optimizing Health for Street Children of Metro Manila through KliniKalye Mobile Health Clinic
Be an Agent of Change for the Children
As the echoes of music and joy linger from the successful 'Helping Through Music' benefit concert, sincerest thanks go to all the esteemed sponsors, whose unwavering support and generous contributions made this event possible. All the contributions and assistant greatly helped touch the lives of underprivileged children in a profound and meaningful way.
You too can leave a lasting impact on children's lives. Support Childhope Philippines' initiatives to advocate for the development of youths. Let's work together as we look forward to the continued journey of creating a better, more inclusive world for them.