In a heartwarming gesture of compassion and solidarity, the Philippine Charity Sweepstakes Office (PCSO) has once again reaffirmed its commitment to uplifting the lives of the underprivileged in society. Recently, the PCSO donated an astounding Php300,000 to Childhope Philippines, a non-governmental organization dedicated to the welfare of street children in Metro Manila. This generous contribution aims to optimize the health and medical needs of these vulnerable children through the innovative KliniKalye Mobile Health Clinic.
For decades, Metro Manila's streets have been home to countless homeless and abandoned children, struggling to survive in harsh conditions with limited access to even the most basic necessities. Amid the ongoing challenges, organizations like Childhope Philippines have emerged as beacons of hope, striving to create a positive impact on the lives of these street children.
The KliniKalye Mobile Health Clinic is an ingenious initiative by Childhope Philippines, tailored to address the unique health requirements of street children. Equipped with medical doctor, an emergency medical technician (EMT), ambulance driver, junior health workers, and volunteers, the mobile health clinic travels to visit different areas where the organization operates and reaches out to children needing health services.
In addition, the clinic offers vital medical checkups, vaccinations, and treatments, while also focusing on nutritional interventions. Through regular health monitoring and nutritional counseling, Childhope strives to improve the overall well-being of these children.
Related Article: Advocating for the Street Children's Right to Education and Healthcare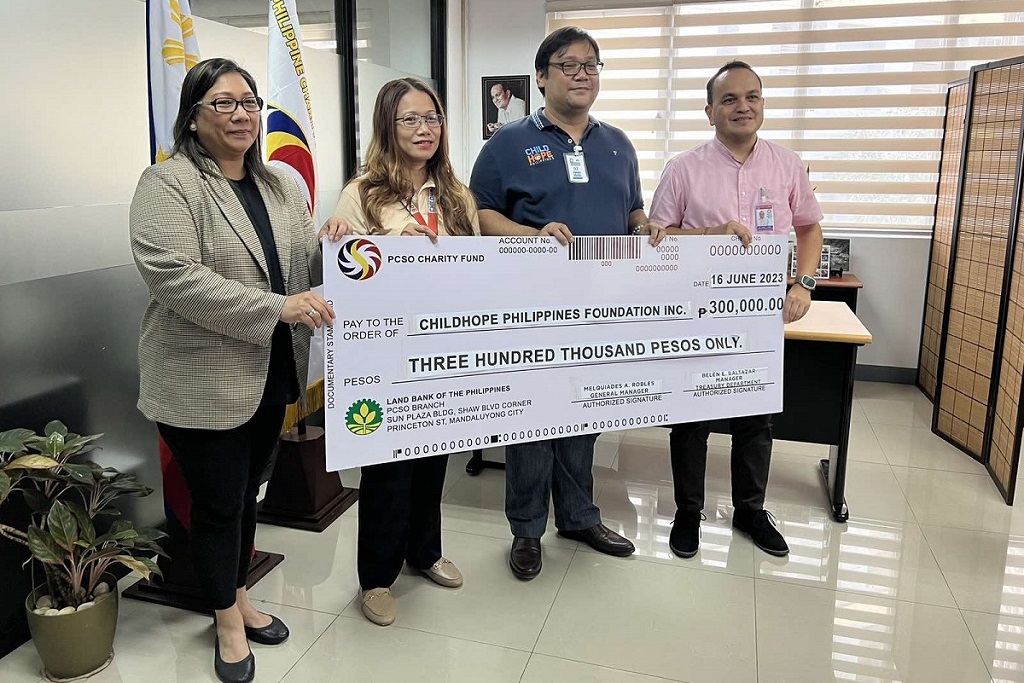 PCSO's Contribution to Advocate for Street Children's Well-Being
The PCSO's generous donation of Php300,000 will undoubtedly bolster the efforts of Childhope in expanding the reach and impact of the KliniKalye Mobile Health Clinic. With this additional financial support, the organization can further strengthen its medical services, ensuring that more street children receive the care they urgently require.
Furthermore, beyond immediate medical assistance, the mobile clinic also plays a critical role in raising awareness about proper health practices and hygiene among the street children. Through informative sessions and workshops, the children are empowered with knowledge that can safeguard them against preventable diseases and health hazards.
This collaboration between PCSO and Childhope Philippines exemplifies the significance of public and private sector partnership in driving social change. As a government institution, PCSO's dedication to corporate social responsibility goes beyond organizing lottery games, demonstrating a deep-rooted commitment to uplifting the less fortunate in today's society.
By providing much-needed funds to organizations like Childhope Philippines, PCSO plays a vital role in creating a sustainable and inclusive society, where the health and well-being of all citizens, especially vulnerable children, are prioritized.
The Php300,000 donation to Childhope Philippines marks a small yet significant step toward a brighter future for the street children of Metro Manila. With continued support from compassionate organizations and individuals alike, we can collectively transform the lives of these young souls, offering them hope, opportunity, and a chance to break free from the vicious cycle of poverty.
Be the Hero of Street Children
As we celebrate the PCSO's generosity and the dedication of Childhope Philippines to the cause, let us be inspired to make a difference in our own ways, contributing to a more compassionate and caring society for all. Together, we can ensure that no child is left behind, and that every young life is nurtured with love and care, regardless of their circumstances.
Be an agent of change today and leave a lasting impact on these kids' lives. Support Childhope Philippines' programs and initiatives that aim to provide quality health care services for street children. Together, let's bring hope and a better life to them.