Childhope Philippines, in its concerted efforts to make a long-lasting impact on street children's lives, announces its latest partnership with BayaniPay, a digital bank for global migrant professionals. This initiative aims to create an easy way for overseas Filipino workers (OFWs) in the United States to send donations to street children.
Through the BayaniPay platform, donors in the United States will now be able to send zero-fee remittances to the Philippines with market-leading foreign exchange rates. This means that, whether sending remittances to your loved ones or even more donations to non-government organizations like Childhope, you need not worry about spending extra money on fees.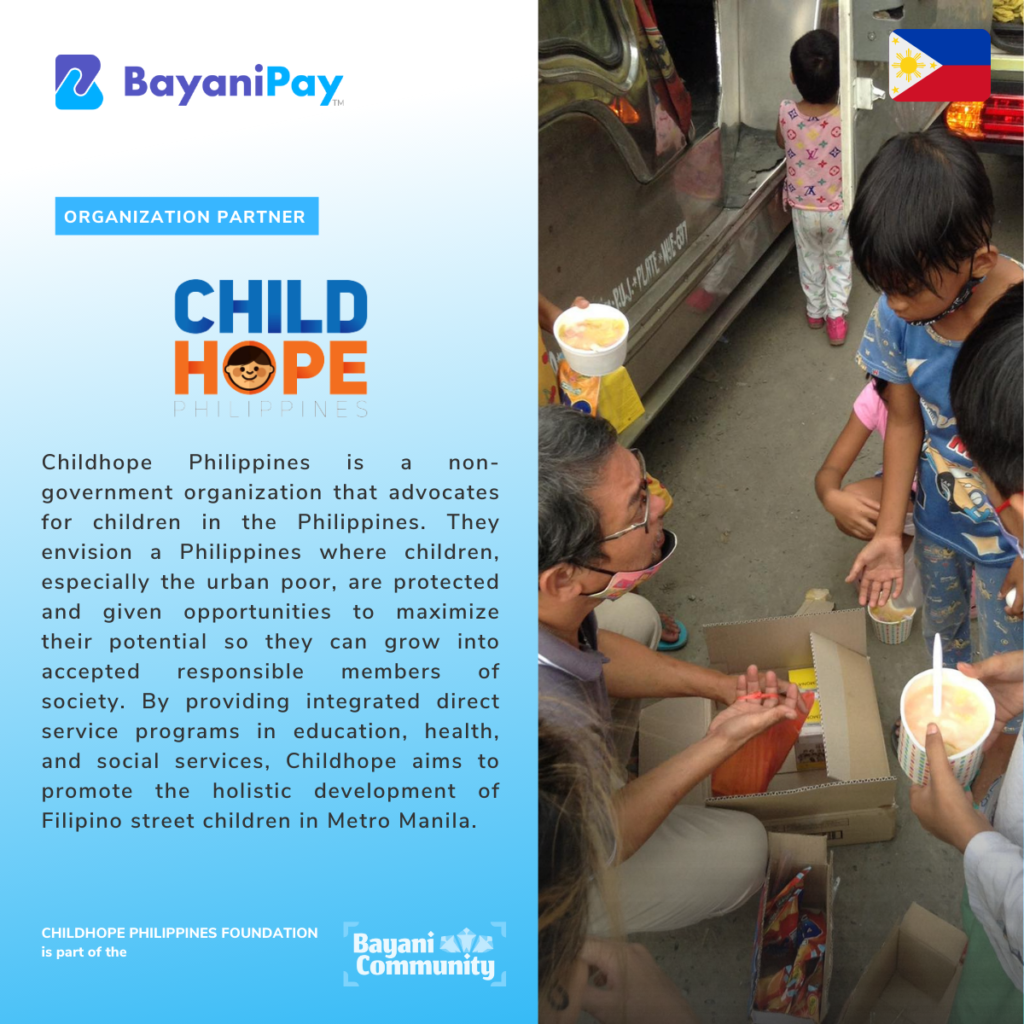 How to Donate Online via BayaniPay
When you sign up for BayaniPay with Childhope Philippines' invite code, you support our organization while making your own remittances easier and more affordable. You'll receive a $10 digital Amazon gift card after you complete your first remittance, and BayaniPay will also make a $25 donation to Childhope Philippines.
In addition to these benefits, you'll get access to BayaniPay's free digital banking features. These include the Easy Digital Checking Account powered by East West Bank, which eliminates account minimums, and comes with a Visa Debit Card with rewards and promos when you spend.
Our team at Childhope Philippines is excited about this partnership because it helps us reach an even larger pool of donors who may be interested in supporting our cause. In turn, we introduce you to a Filipino business that gives back to the community and can make your life easier.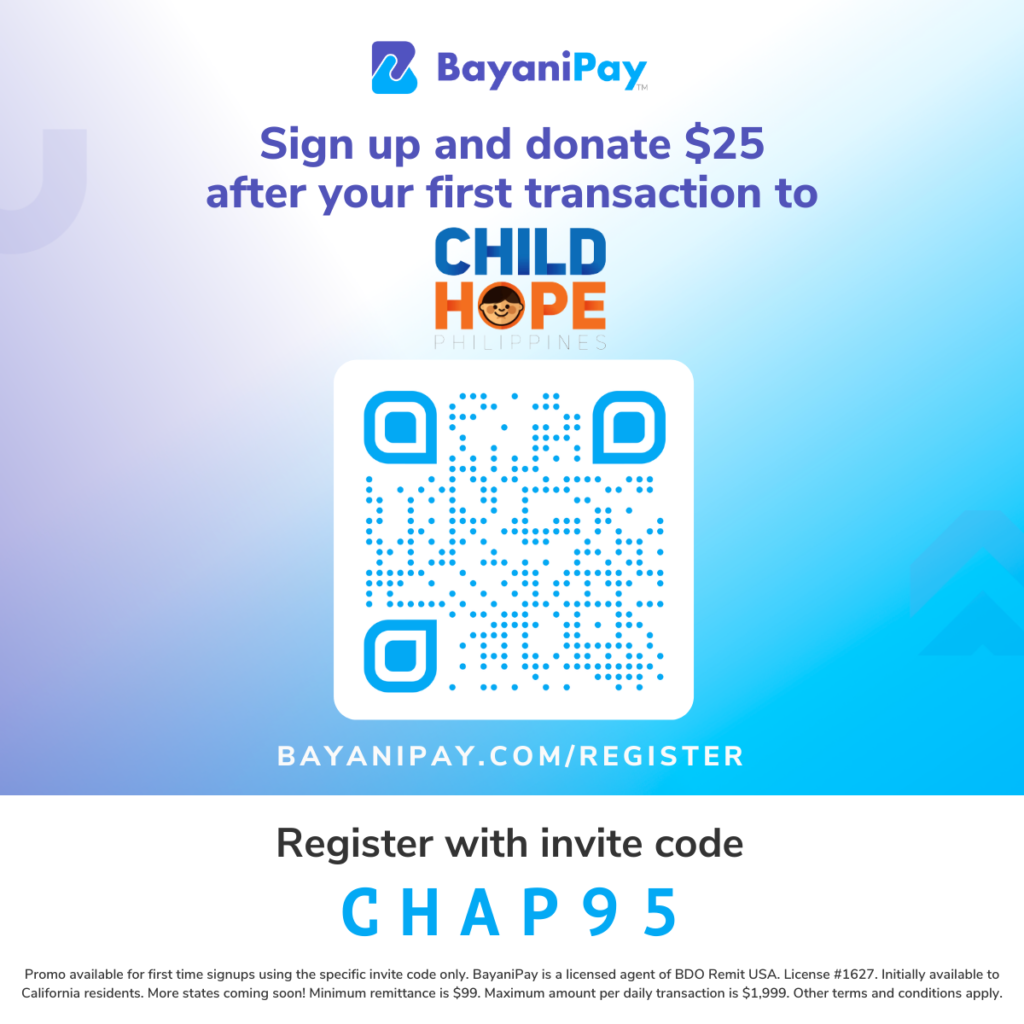 Childhope Philippines unique referral code is: CHAP95
Here's how to get started with BayaniPay:
Sign up using our referral code at https://app.bayanipay.com/register/chap95 
Send your first remittance
BayaniPay will send your $10 Amazon gift card to your email upon the completion of your first remittance
You can send this code to friends and family who might also wish to donate. The more people who use our code, the more funds we can raise for our beneficiaries.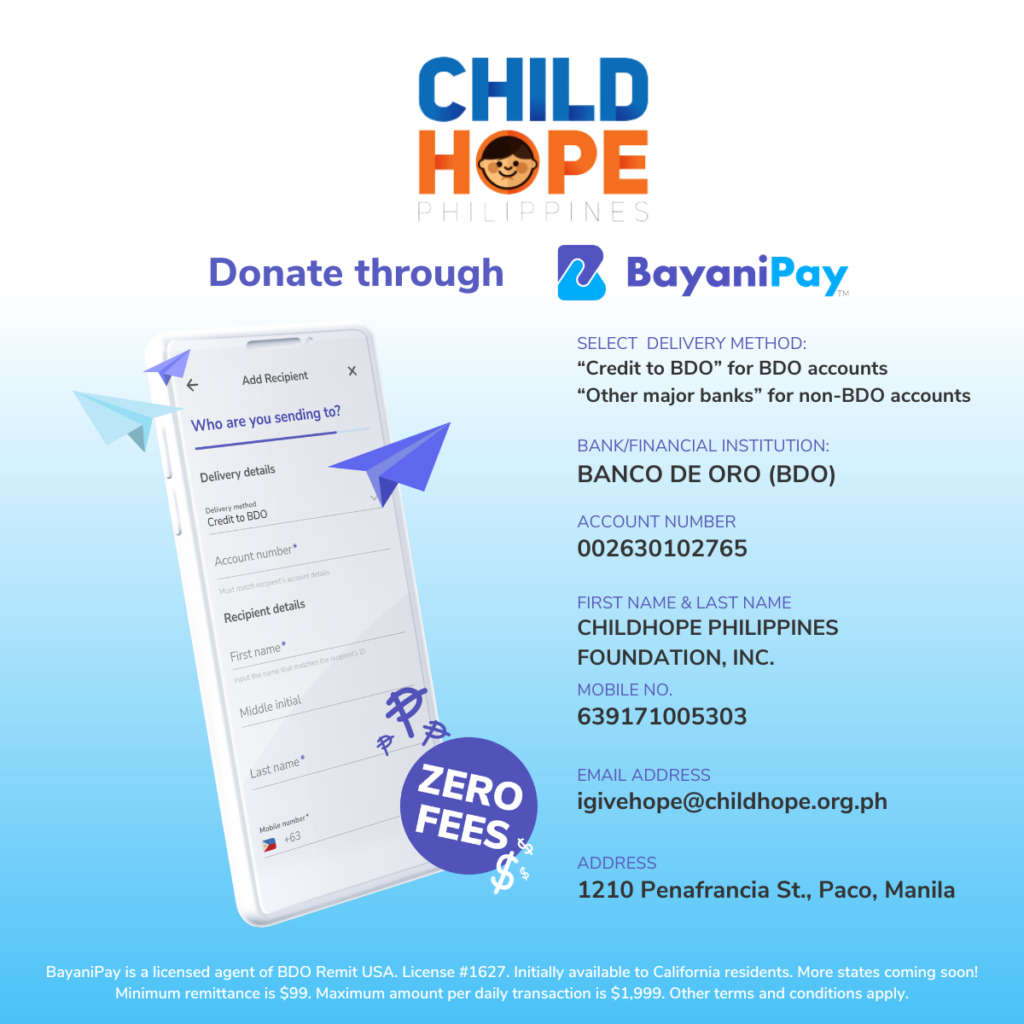 Donate Online for a Cause—and Help Street Children in the Philippines
In this time of pandemic, we make sure to go the extra mile in helping children fulfill their potential through our various programs. These include but are not limited to KalyEskwela, KliniKalye, and Street Youth Empowerment Project. All these became possible with our kindhearted donors and partners who have supported us to keep our programs and projects running and—most importantly—help advocate for children's rights.
You can be part of our team, too! One way is to show your support through donation. Sign up now at https://app.bayanipay.com/register/chap95. Together, let's give the next generation better opportunities and better lives.
Related News: Shopee PH and Childhope Initiative: Online Donation for Street Children