Low-income families depend on the generosity of strangers to make ends meet. Due to a lack of resources, the majority cannot even enjoy Christmas. Nonetheless, there are fortunate ones who truly extend their generosity to the homeless and street children every season of giving.
Through these kind individuals, it is shown to our homeless Kababayans that there are more effective, appropriate, and responsible ways to help than simply offering alms. Consequently, you'll learn several ways to provide and brighten the faces of homeless youngsters in this article.
What Does 'The Season of Giving' Really Mean?
Many individuals are spending time this Christmas season shopping for gifts for loved ones and others. As a result, we can definitely say that this is the season of giving.
But what exactly is the 'season of giving'? When we say 'giving', it should entail more than merely distributing tangible goods. Giving should really come from a place of generosity and compassion. Whoever and wherever, the season of giving is to be cherished in the spirit of our love and goodwill for one another.
With that, Childhope Philippines is collecting gift contributions for street children throughout this holiday season.
Give a Little Back This Season of Giving with Childhope Philippines
According to Agence Française De Développement, between 250 thousand and 1 million children live in the streets of Manila, left to fend for themselves. That is only a portion of the Philippines. Despite the fact that most NGOs find means to distribute them, many street children do not get Christmas gifts. For this year's Christmas, Childhope Philippines wants to do that.
What better way is there to give back during this holiday season? Making a donation to Childhope Philippines is one way!
Ways to Give During the Season of Giving
There are many opportunities to donate or give to people in need during this season of giving. One option to donate is through Childhope Philippines, as was previously mentioned. In order to put a smile on the faces of street children, we are pleased to announce that we have teamed with notable organizations in the Philippines.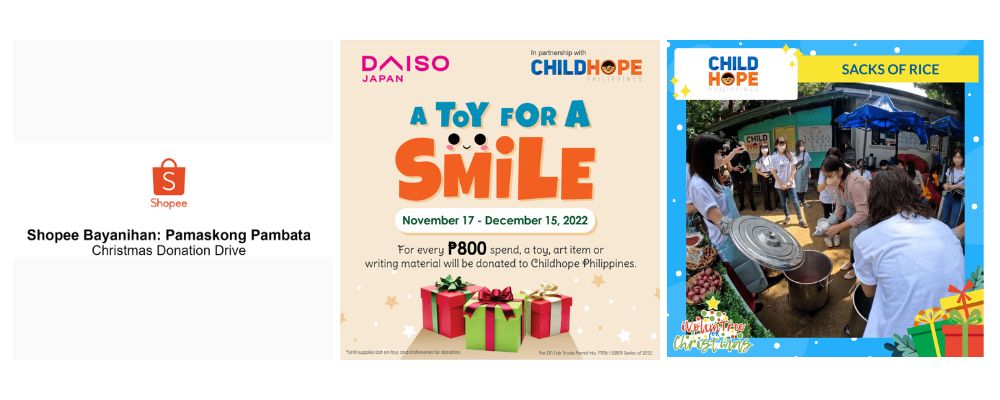 Here are some ideas about how to donate:
Shopee Philippines' Pamaskong Pambata
Shopee Bayanihan: Pamaskong Pambata is collaborating with Childhope Philippines this holiday season to support their programs that give street children access to the KalyEskwela Mobile Community Learning Hub. This program offers free use of the internet, mobile tablets, laptops, and printers to support them in the blended learning approach used in the public education system.
Additionally, it would assist in providing counseling sessions and basic medical services to the recipients. Shopee users may use their ShopeePay wallet to purchase the e-donation coupons. There are currently vouchers available for as little as PHP 1 apiece. Shop in a way that will directly benefit the community in a long-term, sustainable manner.
Related Article: Shopee PH and Childhope Initiative: Online Donation for Street Children
Daiso Japan's Toy for a Smile
This Christmas, Daiso Japan-Philippines wants to make sure that kids have a joyful experience, provide them with presents in their hands, and leave them with a lasting impression. Customers may support their "Toy for a Smile" initiative, which aims to hand out presents for children under Childhope Philippines' program who are also in need so they can enjoy the Christmas season.
A toy, art item, or piece of art will be donated to Childhope Philippines for every PHP 800 spent.
"We are very thankful to be partnering with DAISO for our street children beneficiaries this Christmas season. Knowing DAISO as a leading store which Filipinos patronize, we know that the project will successfully bring smiles to the faces and hearts of Childhope PH's children beneficiaries, whether they receive toys or school supplies as gifts. We encourage everyone to take part and support this campaign." Dr. Herbert Carpio, Childhope PH Executive Director, said.
iVolunteer Philippines: Sacks of Rice for Childhope Philippines
Childhope and iVolunteer Philippines teamed together to give 125 sets of 5 kilogram sacks of rice to street families during this season of giving. With the help of iVolunteer PH, we are now soliciting money and asking for donations to do that. We really hope you can help us make this Christmas a bit brighter for these families.
We are hoping that in this season of giving, you can consider donating through our channels to make Christmas merrier and happier!
Other Programs of Childhope Philippines
The mission of Childhope Philippines is to empower street children and their families, give them access to a progressive environment, and prepare them for their future ambitions. With that, here are some other Childhope Philippines projects that you may support during this giving season:
1. KalyEskwela. This component of the initiative, which literally translates to "school on the streets," employs a mobile van equipped with multimedia technology to offer alternative education sessions and basic reading and numeracy training. Our street educators who have been trained as instructional supervisors lead street children and teens who participate in the Alternative Learning System (ALS), which is approved by DepEd.
Related Article: All About Childhope Philippines' Street Education Program
2. Kalyenderia Mobile Soup Kitchen. Sharing nourishing meals with individuals who are less fortunate is the primary objective of the mobile soup kitchen. By giving meals and soups to families living on the streets of Manila, Kalyenderia attempts to confront and relieve hunger.
3. Psychosocial Interventions. With the aid of psychosocial support and counseling, we assist children and their parents in overcoming stress and the difficulties they face while learning. Additionally, we support shelters, particularly those that house totally abandoned and mistreated children.
4. KliniKalye Mobile Health Clinic. KliniKalye delivers fundamental preventive healthcare, advice, and treatment. This guarantees that the kids are fit and have the physical ability to study.
5. Skills Development. We teach the street children leadership, computer skills, athletics, the arts, and other subjects. We support their growth in these areas, encourage their positive qualities, and help them put the values they've learned into practice while making decisions about their future.
Put a Smile on the Faces of Street Children This Season of Giving
In order to make Christmas merrier and happier for the street children, we are hoping that you will consider making a donation through our channels. Help us brighten this season of giving for these youngsters and teenagers, whether you give through Shopee Philippines' Pamaskong Pambata, Daiso Japan's Toy for a Smile, iVolunteer Philippines: Sacks of Rice for Childhope PH, or through other programs of Childhope Philippines.
If you need more information or you want to directly donate and volunteer to Childhope Philippines, you may check our website today!