"The #iGiveHope Experience"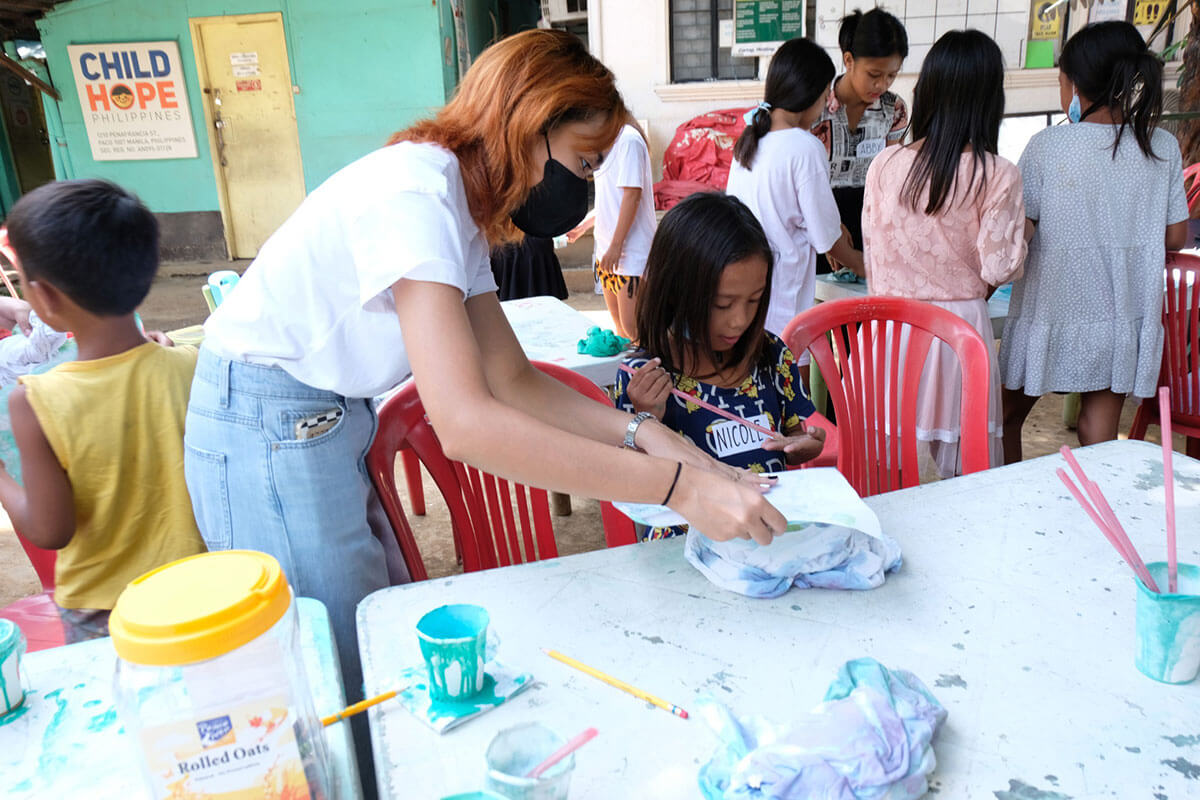 Hello, everyone! I am Ysabel Francesca T. Galang, a second-year BA Psychology student from the University of the Philippines Diliman. My group and I partnered with Childhope for our CWTS II class in the College of Social Work and Community Development. We volunteered for their tutorial sessions and taught English, Filipino, MAPEH, and Special Projects. We also held a bubble art session that focused on utilizing art as an avenue for children to express their dreams. I would like to share my three-month volunteer experience and reflections as a Childhope volunteer.
Doing a community engagement of this nature required us to exert effort and find time to plan and execute the projects. As the point person for external relations, I had to be ready to communicate with my groupmates and with Childhope at any time, even outside our class and working hours and with our conflicting schedules. We had to ensure that we had a proper dialogue with our partner organization and that both parties kept a vital communication system wherein we were on the same page. Although I initially thought it would be challenging to maintain such a communication system, Childhope played a substantial part in making it smooth-flowing for all of us because of how accommodating they are. They accepted us as volunteers with open arms and efficiently addressed all our concerns.
Volunteering with Childhope and for children in street situations was tiring yet fulfilling. My group mates and I had to do planning and preparation weeks before our community engagement while struggling to be on track with all the tasks because of our other academic andorganizational work responsibilities. On the days of our community engagement, we would usually be short on sleep because we had to wake up early to travel and make it on time to the headquarters somehow. Despite this, our volunteer work was worth it. Childhope was there every step of the way, guiding us and suggesting how to serve the children better. Additionally, napapawi ang pagod ko every time I would interact with the children. Their stories, appreciativeness, and insights remind me of our purpose of volunteering—to cultivate hope in them and uphold the protection and fulfillment of their rights by providing them access to vital services and opportunities to nurture their growth.
As a psychology major, I saw kapwa in action throughout this community engagement. Working with my groupmates and building a bond with them as we progressed in our project strengthened my pakikiisa with them. Our reciprocated closeness and shared goals aided us in making our projects possible. We also exercised our pakikisama with other volunteers and the children during the process and community engagements. By doing so, napalalim namin ang ugnayan namin sa kanila, especially with the children. I did not expect to connect and communicate with them smoothly, considering it was our first time meeting them. Our kuwentuhan and general interactions made me realize that even if we just met, mataas na ang pakikitungo namin sa isa't isa.
Becoming a Childhope volunteer is a memorable experience. I will cherish the relations and learnings I had through this engagement, even after my volunteer experience. I would like to take this opportunity to thank Mx. Mylene and Mx. Jem, who accompanied and guided us throughout our projects, and my group mates, who exerted their best efforts and shared their talents to create something wonderful. Until next time, Childhope